23-12-2018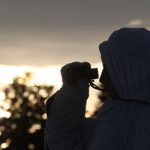 The head of the Border Department noted that compared to last year, the number of detained illegal migrants increased by 20% -30%. He also added that the increase in the flow of illegal migration is observed through the channels of legal entry into Ukraine – airports, road checkpoints. The foreigners of this category arrive to our country, allegedly with no intent to go to the EU, and later the border guard detained them on the Western border – in Transcarpathian, Lviv and Chernivtsi regions.
In general, the citizens of Vietnam, Bangladesh, Sri Lanka, Turkey, Pakistan, Morocco, Iraq, India and Moldova were among the most detained illegal immigrants on the "green" section of the border. Most of them tried to get to the EU countries outside the checkpoints in search of better living conditions, including across the border on Slovakia – 400 people and Poland – 240 people.
Since the beginning of the year, the border guards detained more than 3 thousand illegal immigrants.
Most of them, which is 1950 people, violated the rules of stay in Ukraine. The "leaders" in this category are the citizens of Moldova, Russia, Bulgaria, Vietnam, Uzbekistan.
In addition, during the border control at checkpoints the SBGS employees denied more than 4.2 thousand potential illegal migrants to enter the territory of Ukraine. They are mainly citizens of Moldova, Russia, Iraq, Turkey, Tajikistan, Nigeria, Libya, Georgia, Azerbaijan and India.
Source: https://dpsu.gov.ua/ua/news/petro-cigikal-bilshe-1000-nelegalnih-migrantiv-prikordonniki-zatrimali-tilki-na-zeleniy-dilyanci-kordonu/