25-08-2018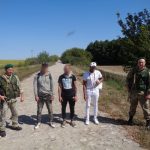 Realizing information of the operational units, the border detail patrol detained three foreigners on the road between the villages Bars and Bunyakyno, Putivl district . The persons had ID cards of the citizens of the Republic of Cuba.
Previously it was established that the offenders arrived to the territory of Ukraine illegally outside the check points crossing the Russian-Ukrainian border swimming it across the Seim river.
Currently, the offenders are delivered to the Border Unit "Bilopillya" for drawing up administrative materials. The relevant law enforcement agencies are informed.
Source: https://dpsu.gov.ua/ua/news/na-sumshchini-prikordonniki-zatrimali-troh-kubinciv-yaki-nezakonno-potrapili-do-ukraini-z-teritorii-rf/