13-11-2014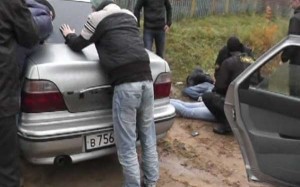 Department of SSU in Transcarpathian region exposed and eliminated the channel of illegal transportation of foreign citizens across the state border of Ukraine.
"SSU stopped the activitiy of organized criminal grouping organizing the channel of people smuggle through the state border of Ukraine beyond the check points.
SSU detained five members of the organized criminal grouping during the special operation in one of the private houses in the area of Vynohradiv district, Transcarpathian region.
There was a group of illegal immigrants – 4 and 3 Afghan citizen of the Republic of Sri Lanka in the same house, which were intende to be illegally smuggled to Slovakian Republic, "- it was said in the statement.
SSU investigators of Ukraine in Transcarpathian region have started a criminal proceeding on the grounds of the offense under Part 2 Article 332 (illegal transportation of persons throught the state border of Ukraine) of the Criminal Code of Ukraine.