13-03- 2015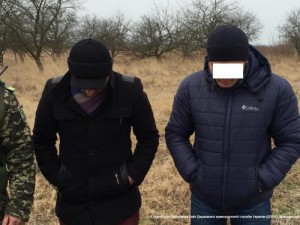 Five illegal migrants were apprehended by the border guards of Lviv and Kherson Detachments.
Two trespassers intending to cross the state border in the check point "Lviv-air" were detected on March 12. The passengers – a girl and a boy – arriving from Istanbul presented their passports of the citizens of Germany for the check. However, during the verification it was established that they were false. In the course of the interview the persons reported that they were the citizens of Iraq, they bought their documents for $10 000 in Istanbul aiming at moving to the countries of European Union.
Besides, the border guards of the same detachment detained two illegal migrants in the area of responsibility "Belz". Two unfamiliar persons walking in the direction to the state line were noticed by the inhabitants of the village of Peremyslovychi. Detainees, being the citizens of Syria, were delivered to border subdivision to draw up procedural documents and provide the committed infringement with the legal qualification.
One more violator was detected by the border guards of Kherson Detachment in the check point "Dniprobuh-commercial sea port". The partially forged passport belonging of the citizen of India – change of the constituent data – was noticed by the law enforcement agents. The man arrived by the motor ship "Nord Fihter" (the flag of the Marshall Islands). The violator was forbidden to come out into the shore.