31-08-2015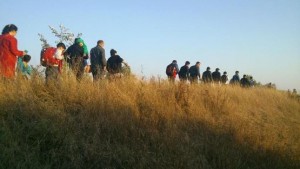 State Border Guard Service of Ukraine continues to take a complex of measured to counteract illegal migration. Thus, during the day, the officers of Sate Border Guard Service detained 4 groups of illegal migrants from Afghanistan, Bangladesh, Nigeria, Somalia and Iraq at the border on Hungary.
One of the groups was detected in the area of BS "Salovka" by the border guards of Chop Detachment by means of thermal imagers.
After receiving information about the movement of 14 unfamiliar persons, border details started to the border area aiming to exclude their illegal cross of the state border.
In a result of operative actions performance the travelers were apprehended. In the course of filtration measures it was learned that 12 of them were the citizens of Afghanistan, and two more – Bangladesh and Nigeria. They left 400 meters to reach the border.
Three more groups of illegal migrants were detected and detained by the border guards of Mukachevo Detachment. Thus, the border detail of BS "Kosyno" apprehended 7 persons without documents nearby the border line. According to their words, all of them are migrants from Afghanistan.
Besides, border guards of BS "Goronglab" of the same Detachment also prevented the attempt of the illegal cross of the state border. When the border guards appeared, 4 unfamiliar persons intended to run, so the border detail had to make warning shoots upward to stop them. Two detainees were the citizens of Iraq and two more were from Somalia and Afghanistan. Also, the staff of the BS "Luzhanka" detained 3 citizens of Somalia the day before.
All detainees were delivered to the Temporary Detention Centers. The further destiny of the illegal migrants will be defined by the court.