02-12-2015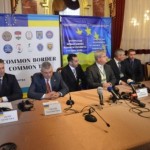 Joint meeting of the heads of Border, Customs Departments of Ukraine and neighboring EU member-states: of Poland, Slovakia, Hungary and Romania was held on December 2, 2015.
The issues on protection of our eastern borders and of marine spaces on which the security of European lands may depend were considered at the meeting. Problems of illegal migration were also discussed.
In the year 2014 Ukraine was among the principal suppliers of illegal migrants. This year their number from Ukraine has increased in two times.
The quantity of illegal migrants at the Hungarian border has been enlarged in seven times. This year we did not let pass about 14 000 persons", – the head of State Border Guards Service of Ukraine, Victor Nazarenko report.
He also assured that situation at the western and southern borders is under control.
"Ukraine is a peculiar buffer zone, a transit country for illegal migrants. However, thus far situation is stable, controlled and it is subjectively noticed by all participants of the meeting.
Though, lately we fix certain tendencies in expansion of the violation cases on the part of the illegal migrants – in fact, in two and a half times", – Nazarenko stressed.