07-12-2015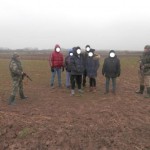 Three citizens of Sri Lanka were apprehended in Transcarpathia by the border guards of Mukachevo Detachment together with the members of Public Formation in the area of responsibility of BS "Delove". The travelers left 500 m to reach the border. They had no any documents, however, being introduced as the citizens of Sri Lanka.
Except these persons, the detail noticed two persons intending to escape. However, they failed to run – soon the men were detained. Probably, they were involved in smuggling illegal migrants and assisting their illegal trip. In the course of the investigation, it was established that runaways were Ukrainian citizens, one of them was the employee of State Border Guard Service.
Law enforcement agents have been informed on this point. Now, a statement on Article 2 Part 332 of Crime Code of Ukraine (illegal transportation of persons through the state border of Ukraine) is enrolled into the Unified Register. Verification goes on.
It will be marked, that counteraction to illegal migration at the state border is performed in close cooperation of Border Department and Public Formations, which are actively involved into the security of the border. In particular, lately, border guards of Chop Detachment together with the public representatives apprehended 4 "happiness seekers" making their way to Slovakia. None of the detainees had any documents. Besides, illegal migrants become frozen much due to the weather conditions. One of the men was rendered medical aid because of frostbite.