13-01- 2016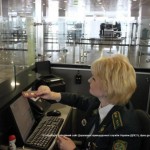 State Border Guard Service of Ukraine continues to follow the dynamic of illegal migrants' moving and improve the Border Security System at the possible way of their entrance and exit. In particular, citizens from Libya, man (42 y.o.) and woman (40) were detected and not let in to Ukraine in the Boryspil Airport, who were the spouses arrived from Istanbul. It was their first arrival to Ukraine as for study at one of Kyiv universities. Besides, this establishment did not expect on the foreign entrants. After the Libyans were rejected in entering as they did not approved the aim of their trip, they reported about their plans to undergo medical treatment. However, they again did not have any approving documents, neither medical expertise from doctors, nor medical cards in this case and durin the interview they could not tell the exact name of the hospital they were going to apply. So far, the violators are returned by fly back.
Also, brder guards of Separate Check Point "Kyiv" discovered a citizen of Pakistan. He intended to get to Stockholm by transit using forged visa.
In total, during the last year the staff of State Border Guard Service rejected more than 13 thousand potential migrants in entering Ukraine, and it is 1.5 times  more in comparison with 2014. Also, the border guards have recently fixed the increase in the number of illegal migrants wishing to get to EU.