20-10-2017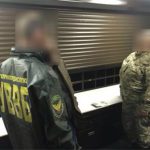 Two citizens of Azerbaijan trying to bribe the border guards at the checkpoints were found guilty by the court decision and imposed fines in the amount of 9 and 12 thousand UAH. Thus, on October 7, a citizen of Azerbaijan offered the border guards of the BD "Chernomorsk" $ 200 for unimpeded entry into the territory of Ukraine in Odesa region at the checkpoint "Illichivsky-ICC" during the passport control.
And on October 5, at the BD "Domanovo", the guards of the Lutsk Detachment when carrying out measures on passengers control from the bus "Kamyanets-Podilsky-Brest", discovered counterfeit marks on crossing the state border of Ukraine at one of the passengers, also a citizen of Azerbaijan. In order to positively resolve the issue, the foreigner offered a bribe of $ 50 and 600 UAH.
Certainly, the law enforcement officers refused to take advantage of the illegal benefits, and the facts of bribes offer were documented. Protocols were drawn up as to the offender under the Article 369 of Crime Code of Ukraine (Offer, promise or provision of unlawful benefit to an official). The cases were forwarded to the court.
Recently, proceedings were completed on both citizens of Azerbaijan, according to the results of which they were found guilty and imposed fines of 9 and 12 thousand UAH, respectively. In the second case, the offender was banned to enter Ukraine for three years.
Source:http://dpsu.gov.ua/ua/news/Dvoh-gromadyan-Azerbaydzhanu-pokarali-za-sprobu-dachi-habariv-prikordonnikam/