22-01-2018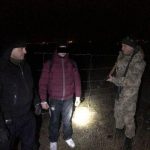 The violator, who attempted to avoid the checkpoint "Tabaki" the Ukrainian-Moldavian border, was detained tonight by the border guards of Ismail Detachment, Odessa region.
Thermal imager assisted the border guards in detecting an unknown person. The detainee explained the border guards that he was trying to get to Moldova for the purpose of employment, and went bypassing the check point as he did not have any documents.
Currently, the offender is identified – he is a 20-year-old citizen of Ukraine. The procedural documents are drafted. The further destiny of the traveler will be defined by the court.
Source: https://dpsu.gov.ua/ua/news/na-odeshchini-prikordonniki-za-dopomogoyu-teplovizora-viyavili-porushnika-kordonu/