03-05-2018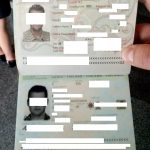 The border guards of the Separate checkpoint "Kyiv" found a fake document at the international airport "Boryspil" by which the foreigner made his way to Germany.
During the border control the border guards discovered a citizen of Iran having false document. Iranian with a partially forged passport of the citizen of Finland tried to get into Munich. In order to get to Germany, the man paid 5 thousand euros to the dealers in Istanbul for the fake passport.
The citizen with the fake document was not passed and sent by the the return flight to the country of origin.
Source: https://dpsu.gov.ua/ua/news/u-borispoli-v-irancya-prikordonniki-viyavili-pidrobleniy-pasport-gromadyanina-finlyandii/