21-07-2018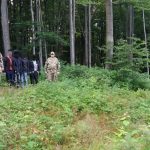 In the course of the border guards' service the signs of human presence were noticed near the state border. The step track pointed to the fact that recently a group of persons walked this way.
The staff of the SBGSU immediately began the search operations and informed the representatives of the border police of Slovak Republic. In order to improve the efficiency of the search and prevent offences, the Ukrainian border guards initiated the joint patrolling with the European colleagues.
Soon, the joint detail detained four Asians. They were just on their way to Slovakia and tried to cross the border. Eight more illegal immigrants were apprehended by the Slovakian law enforcers close the firts group immediately after the violation.
Detainees had no documents, and introduced themselves as the citizens of Vietnam. Currently, the appropriate procedural events take place, the persons are identified, in action of which they shall be liable under the Part 2 Article 204-1 CUAO "Illegal cross or attempt of illegal cross of the state border of Ukraine". In addition, the persons who could assist the foreigners in their illegal trip are established.
Source:https://dpsu.gov.ua/ua/news/spilniy-patrul-prikordonnikiv-ukraini-ta-slovachchini-zatrimav-grupu-nelegaliv/