30-09-2018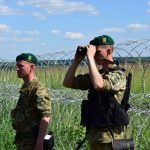 After some time the response unit detained three Iranian citizens, one man and two women, intending to go to neighbouring country beyond the checkpoints.
In the framework of the investigative action, the law enforcers stopped the car "KIA" of Ukrainian registration. There was a driver and a stateless passenger in the car. As it turned out, they assisted in smuggling these foreigners across the border.
The police drew up the corresponding protocols and forwarded them National Police.
Source: https://dpsu.gov.ua/ua/news/na-lvivshchini-zatrimano-chergovih-shukachiv-krashchoi-doli/