26-10-2018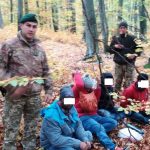 Four persons were detained in Transcarpathia and arrested for 3 days to identify them and clarify the circumstances of the offence.
The violators were detained by the border guards of Chop Detachment in the evening nearby the village of Huta. They were detected in a result of information received from the staff of the Operative Unit of the Western Regional Department of SBGSU.
Four travelers were stopped 1200 meters before the border on Slovakia.  These were 3 men and 1 woman, being without any documents and introduced to be citizens of India.
It will be recalled, the day before the border guards of this Detachment detained on the same direction two citizens of Turkey. The foreigners also planned to get to Slovakia bypassing the checkpoint.
Source: https://dpsu.gov.ua/ua/news/chetvero-indusiv-namagalis-probratisya-do-slovachchini-cherez-gori-zakarpattya/