02-11-2018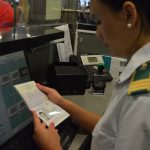 Turkish citizen with a fake ID-card was stopped by the border guards of the Separate checkpoint "Boryspil". During the border control he has provided the passport of the citizen of Turkey and the ID card of a citizen of France, which was full with signs of forgery. Further on, the law enforcement authorities found out that the foreigner intended to depart in some days from Ukraine to Budapest using in advance the bought ticket.
The foreigner was refused in crossing the state border and returned on the back flight. Also, a Turkish citizen is prohibited to enter Ukraine for a period of 3 years.
And at the checkpoint "Kharkiv-passenger" the border guards of the Kharkiv Detachment found a foreign document with the constituent data of another person belonging to the citizen of Azerbaijan. The foreigner in such a way planned to get to Russia by train "Kharkov-Moscow".
A notification was sent to the National Police for inclusion the signs of a criminal offense detection into the Unified Register of Pre-Trial Investigations under the Article 357 of the Crime Code of Ukraine (Theft, misappropriation, extortion of documents, stamps, seals, taking them by fraud or abuse of official position or their damage). The person is handed over to the staff of the National Police in Kharkiv region.
Source: https://dpsu.gov.ua/ua/news/prikordonniki-viyavili-u-dvoh-inozemciv-falshiviy-ta-chuzhiy-pasport/