10-12-2018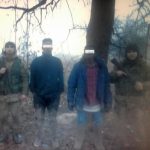 Thus, while patrolling the border guards noticed unknown persons who were moving fast to the border. The individuals ignored the border guards and tried to escape. To stop the offenders the soldiers made several warning shots. Soon, the offenders were detained; they had no any documents, and reported to be Somalia citizens.
During the filtration measures it turned out that one of the foreigners of was detained by the border guards of Mukachevo Detachment detained two months ago.
The protocols on administrative offenses were drawn up as to the detainees. Currently, the circle of persons is established, which involved in the organization of the illegal immigrants' trip.
The further destiny of the travelers and assessment of their actions will be determined by the court.
Source: https://dpsu.gov.ua/ua/news/dvoh-somaliyciv-zatrimali-prikordonniki-na-kordoni-z-ugorshchinoyu/