29-12-2018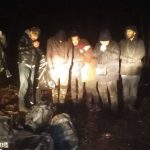 The trip to the EU ended unsuccessfully for 7 Turkish citizens over the past day. The border guards og Lviv Detachment prevented the border cross.
The officers of the BU "Pavlovychy" bordering on Poland received information about the appearance of an unknown persons in the forest on the outskirts of the village. The border guards were informed by the local residents. The response team, which immediately started to the place, detained seven Turkish citizens – five men and two women.
The border guards found out that the foreigners were  in the border area planing to get to the EU countries outside the checkpoint to avoid passing border control.
The offenders were taken to the border division and the protocols were drawn up under the Article 204-1 Part 2 AICU "Illegal cross or attempt of illegal cross of the state border of Ukraine"
Source: https://dpsu.gov.ua/ua/news/7-gromadyan-turechchini-sprobuvali-zdiysniti-nezakonnu-podorozh-do-krain-s/