04-01-2019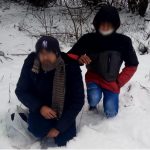 The officers not only prevented the unlawful actions of illegal immigrants, but also saved their lives. Frozen and exhausted foreigners were found in the highlands when they tried to get to Slovakia.
Despite the weather conditions and almost a meter layer of snow in the mountains, the smugglers sent illegal migrants, who are accustomed to a completely different climate, to make their own way through the forest to the state border. Note that the desire of illegal dealers to quickly and illegally earn money has repeatedly led to irreparable consequences, in particular to the death of the "travelers".
The detainees were the citizens of Egypt and Morocco. The border guards immediately provided first aid to the foreigners. After improving their health state, the offenders will be interviewed to establish all the circumstances of their illegal travel. Also actions proceed on establishment of persons involved in the revealed offense. In addition, the foreigners will be held accountable for their attempt to illegally cross the state border of Ukraine.
Source: https://dpsu.gov.ua/ua/news/prikordonniki-zatrimali-u-gorah-zakarpattya-zmerzlih-nelegaliv/