11-07-2018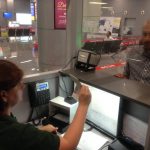 During the passengers check in arrived from Istanbul, the border guards of the Odesa Detachment had some doubts as to the validity of the documents presented by the Turkish family at passport control. Upon further inspection, the experts have established the fact of forgery on the passport information pages of the family members. They had no any other documents.
However soon, viewing the territory of the checkpoint the border guards found the valid passport documents of the citizens of Turkey in one of the rooms, they only contained other identification information. It turned out that before passing the border control the parents threw these documents away.
The forgeries were confiscated under the established order. The family was not passed to Ukraine and a decision was made to ban their entry into Ukraine within three years.
Source:https://dpsu.gov.ua/ua/news/%20video%20-turecku-rodinu-z-pidroblenimi-dokumentami-ne-propustili-v-ukrainu/