21-10-2018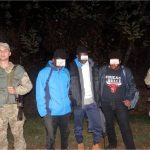 During verification of the available information provided by field officers of the Border Department the policemen detained three foreigners without documents on the suburb of the settlement Kosyno. Two of them introduced themselves as Sudanese citizens and the third one – as Somali.  In the course of filtration activities, the border guards found out that the detained persons, aged 23, 18 and 16 years, came to Ukrainian territory in legal order, but they planned to cross the Ukrainian-Hungarian border illegally outside the checkpoints and reach one of the EU countries.
Currently, the foreigners are delivered to the Temporary Detention Facility of Mukachevo Border Detachment. The protocols on administrative offense under Part 1 Article 204 -1 of the AICU were drawn up.
The cases will be forwarded to the court.
Source: https://dpsu.gov.ua/ua/news/shukachiv-shchastya-z-afriki-zatrimano-sogodni-vnochi-na-kordoni-z-ugorshchinoyu-/