16-09-2014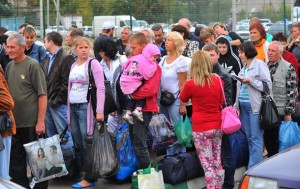 How do the newcomers from the east of Ukraine settle down in Belarus, what aid is foreseen for them, what is it enough for and do they get it in time – these are the issues discovered by the correspondent of DW.
Theexact number of Ukrainian refugees in Belarus is not officially presented. The President Aleksandr Lukashenko said in his interview to TV channel "Russia 1" that more than 3 thousand persons arriving from Ukraine want to stay in Belarus on permanent residential basis. Visiting Gomel, the representatives of UNHCR Oldrikh Andrysek has declared that there are more than 25 000 persons arrived from Ukraine.
As it is reported by DW in the press-service of MOI of republic of Belarus, they are not registered, thus we can mention only the number of registered persons at the place of temporary residence (there is no free information on the country) and applying for refugees status – as of July 1 there were no any such applications, but now there are 200 persons. Besides, as it follows from the interviews with Ukrainian migrants, many of them go to Belarus from Russia, where they have to cross the border of Belarus from Russia. They look for jobs, housing, places at schools for their children in Belarus.
Job and housing
The list of vacancies with indication of employer's proposal of housing is published at the website of Ministry of Labor and Social Protection of Belarus for all arrived persons from Ukraine. Lucky Ukrainian, new settlers in Belarus agricultural towns are regularly shown by the governmental television. Considering the list, the operator of mechanical milking is among the specialty in demand.
There are no Temporary Accommodation Centers in Belarus for newcomers from Ukraine. However, there are real chances to find job and housing in the rural area, and they are much greater in comparison with the towns, all the more in the capital. It is not difficult to find low-paid work in Minsk, – B.G from Donetsk says: "I have been taken as worker with the salary of 150 € through Employment Centre and concerning housing we look for it and pay ourselves." He tells that since the moment of his arrival to Belarus he has not got any allowance, however applying for the refugee status. I received the assistance from Red Cross. I paid 6€ for 3-month registration, and this money is much. In case decision on application will take more time I shall have to pay for the registration again. B.G. tells that now he lives in Minsk "on agreement with a good man", he does not plan to depart, "in case his plans will come true here".
HumanFactor
Nurse Irina from Kramatorsk got the job quickly (a rate and a half) at one of the Minsk hospitals, which paid her employment permission. "I was treated with sympathy", – Irina tells. Her two daughters – 14 and 15 years old – already attend school, the younger learns to play dulcimer, the girls are treated well.
Irina worries most about the situation with the residence. She tells about her visit to Municipal Council for assistance, nothing was promised there. Moreover, Irinasays, thattherelativesgivingshelterto her and her daughters pay the tax: we had to execute the housing rent to be registered for three months. Infact, accordingtoherwords, thevolunteers helped her responding to her post in the social networks – they brought clothes and shoes to her daughters.
"Muchdependsonpeople" – Marina from Alchevsk says, – someone helps out of kindness, someone wafts aside with irritation , and in one governmental organization we were told: if Russia has taken the Crimea , then let it nowsolves the problem of refugees , not Belarusians started it . "
What are the rights of refugees?
Persons being granted refugee status can apply for citizenship, but Migration Department is not engaged in solution of their housing problems, – it was told to DW by the deputy head of the press service of MOI, George Evchar.
"For a work permit, I, as a foreign citizen, paid about 80 euros," – Oleg from Lugansk says. He arrived with his wife and infant son a month ago, he rents an apartment, works at the construction site. His friend, arrived a few days ago, is lucky, Oleg says, as from September the refugees are released from the payment for the work permit and registration of certain documents in accordance with the decree of Lukashenko.
In particular, the same decree stipulated the free issue of medical certificates required for employment, and emergency medical care as well as education of children in schools. In addition, preschoolers are accepted to the kindergartens if there are available places. Some immigrants say that the benefits are insignificant. Others are glad to get any support. Tatyana from Donetsk came before the "decree" with her 8-month son, so she paid about 150 euros for medical certificates to get a residence permit and for the legal costs.
"We had to pay twice for registration, as at first we lived at our relatives, then moved to the others", – Tatiana complains. Since July, she does not get any child support. While she does not have a residence permit, she gets support only from her relatives. Tatiana's husband graduated from Donetsk Medical Institute and is trying to get an internship in Minsk, the education costs $ 3,000 – we have no money. "No benefits are received, it is promised to be given after I get a residence permit," – Tatiana says.
 The government is able, but is not obliged
As it was reported by DW head of the press service of the Ministry of Internal Affairs Konstantin Shalkevich all applying for refugee status or subsidiary protection in the Republic of Belarus receive one-time assistance in the amount of one basic amount (equivalent is just more than 10 euros). Other payments are to be carried out in accordance with the decision of the Council of Ministers as of 14 April 2009.
In particular, the document stipulates the possibility of accommodation payment at the place of  temporary accommodation – no more than ten basic amounts per month (about 100 euros), food and clothing – for the amount of not more than 55 and 44 euros respectively.
However, none of Ukrainian immigrants giving interview to DW in Minsk have not received anything except one-time assistance while registering the application. Visitors from the east of Ukraine do not know what they can claim in Belarus and judging by their stories, no one hurries to inform them about it. Igor from Thorez just jokes: "We arrange ourselves in Belarus on the principle " a rescue of the refugee is the work of the vey refugee".
Source: http://korrespondent.net/world/worldabus/3419281-kak-prynymauit-v-belarusy-pereselentsev-s-vostoka-ukrayny