02-10-2014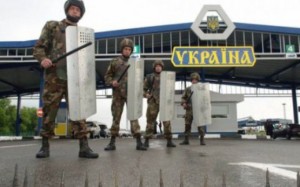 At night a great number of illegal migrants was apprehended due to joint actions of the border guards of Border Departments of Ukraine and Slovakia, there were children among the detainees.
Unfamiliar persons were noticed not far from the border of Slovakia by the Transcarpathian border guards with the help of technical supervision devices. Information was dent to all Border Subdivisions and details of both countries.
In the course of the operative action border guards of Ukraine and Slovakia detained in general 37 illegal migrants. There were 5 men, 5 women as well 7 children of the age 3-8 years old among the "travelers" detained by the border guards of Chop Detachment.
Yet, 20 citizens from south-eastern Asia were apprehended just at the border by the Slovakian border guards. The verification measures are carried out and the circumstances of the violation are examined.
It should be marked that lately the organizers of transportation of illegal migrants try to activate their business.
Hence, they do not take into account the beginning of the cold season and participation of children in the illegal trips. For children they can finish up dramatically, as it is known there have already been cases when children froze during the dangerous journeys.