14-10-2014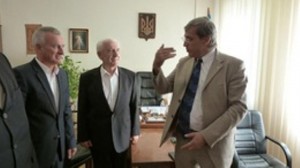 Regional representative of United Nations High Commissioner for Refugees in Ukraine, Belarus and Moldova, Oldrikh Andrysek made his visit to Transcarpathia.
On October 14, O.Andrysek met with the Director General of State Migration Service of Ukraine in Transcarpathian oblast, Igor Mykhailyshyn.
The participants of the meeting were also the vice-chief of SMS in the region Aleksandr Berdar, head of Refugees and Stateless Persons Department Yuriy Markovskyi, director of Temporary Accommodation Centre Luka Fedurtsya and director of International Fund of Health Care and Environment "Carpathian Region" (NEEKA) Albert Pirchak.
O.Andrysek has marked that Transcarpathia is among the leaders in adaptation processes concerning persons who are in the procedure of refugee status determination or persons in need of subsidiary protection. Thus, since the beginning of the year, 76 asylum seekers have applied with the corresponding applications to the subdivision of the Migration Service of the region Regional representative of UNHCR marked the high level of the staff of the Service engaged in the work with this vulnerable group of persons. He also expressed his hope not to lose his positions and TAC in the area. It was said about the social and living conditions of the center's residents, realization of educational programs.
At the present moment, 59 refugee and 70 persons in need of subsidiary protection are registered in Migration Service of Transcarpathia.
Source: http://www.ua-reporter.com/novosti/157733