05-11-2014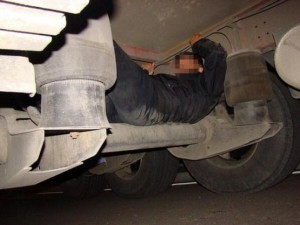 The resident of Transcarpathia is sentenced to three years of imprisonment intending to smuggle the citizen of Moldova to Ukraine…
Regional Public Prosecution Department supported the state prosecution in the criminal case concerning the citizen L., who committed the crime stipulated by Part 1 Article 332 of Crime Code of Ukraine (illegal transportation of persons through the state border of Ukraine).
As it was reported by Aleksandr Vasilchenko, the chief of Department of supervision of adherence to laws by the bodies of Security Service of Ukraine, State Customs Service and State Border Guard Service, it was proved that Transcarpathian citizen agreed and organized the delivery of 29-year-old citizen of Moldova to the territory of Ukraine without passport control undergoing, as Moldavian lost his documents, on the grounds of collected evidences by the Public Prosecutor's Office in the court.
However, the foreigner was found by the staff of Border and Customs Services of Ukraine in the course of car examination belonging to the Transcarpathian.
Therefore, the court, considering the collected evidences, sentenced the accused person to three years of imprisonment with dismissal on the basis of Article 75 of CCU and enduring the punishment with probation period for one year.