12-12-2014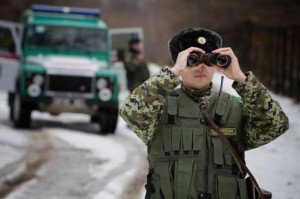 The next group of illegal migrants, natives of the Asian region, was detained in one of the settlements of Uzhgorod district. In the frames of actions undertaken on counteraction to illegal migration, Chop border guards received information about a large group of unfamiliar persons being in the border area. In the course of the joint information processing, the staff of the Chop Detachment and representatives of MOI of Ukraine in Transcarpathian region detected eight citizens of Afghanistan, in one of the border villages in the house– five men, two women and a child. People did not have any documents; their goal of stay nearby the border was explained as an attempt to get to Europe.
While detaining the illegal migrants, law enforcement agents detected one more citizen of Ukraine, inhabitant of the town of Uzhgorod, renting this house.
He shall bear responsibility before the law according to the Article 332 of Crime Code of Ukraine (Illegal transportation of persons through the state border of Ukraine). Detained migrants were delivered to the subdivision; their further destiny will be decided by the court.