07-04-2015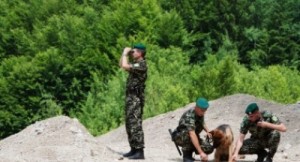 Border guards of BS "Luzhanka" of Mukachevo Detachment noticed one man at the state border from observation unit. The reaction group detained the violator during his attempt to go over the barrage fence in the distance at about 50 m before the state border.
The man explained that he originated from Sudan, however, he could not prove it by documents.
Besides, the border detail detected and detained one more violator in the distance of some tens of meters from the place of detention on remand while searching and supervising the locality. According to the words of detainees they were from Eritrea.
Afterwards, 2 citizens of Ukraine were detected not far away; probably they participated in smuggling of illegal migrants.
Detainees are delivered to border subdivision for their identification and conducting the verification.