14-04-2015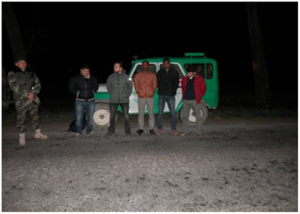 Border guards of Mukachevo Detachment detained 11 illegal migrants.
The officers of BS "Kosyno" detained 4 persons. The violators were the citizens of Syria. Mentioned persons were moving towards the border by car, only one of them had documents.
One more group of illegal migrants was apprehended also in the area of BS "Kosyno": 5 citizens of Syria and 2 from Sudan accompanied by Ukrainian man intended to get illegally to neighboring Hungary.
At the present moment, they are at Temporary Detention Centre of Mukachevo Border Detachment.
Their further destiny will be defined by the court.