05-05-2015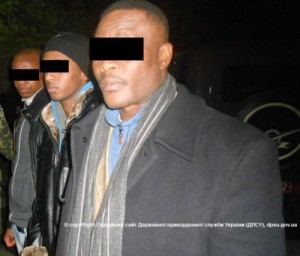 Border guards of Chop Detachment detained three migrants from African continent. The citizens of Eritrea, Sudan and Cameroon, without any documents, intended to migrate to Hungary. However, due to the watchfulness of the local residents they failed to realize their plans. The border guards of BS "Salovka" planned to detain the "tourists", who were preparing to cross the border in illegal way to the neighboring country.
One more "happiness seeker" was apprehended by the border guards of "Palad-Komarivtsi" at the border on Slovakia. According to the words of the trespasser, he was the citizen of Turkey, however, without any documents. His further destiny will be defined by the court.
Yet, three citizens of Syria with forged documents of the Israelis were detained by the border guards of Kharkiv Detachment in the check point "Dnipropetrovsk-air". They planned to get to Vienna from Ukrainian airport.