08-05- 2015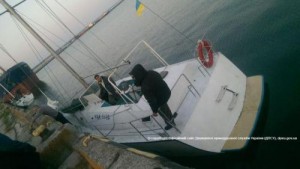 State Border Guard Service of Ukraine performs an active fight against the organizers of illegal migrants' transportation through the state border of Ukraine. The next attempts of such activity were exposed and prevented in the area of BS "Ochakiv", Kherson Detachment.
Thus, border guards learned that some small cutters registered in Ukraine are used by the malefactors to transport illegal migrants to the countries of European Union. In the course of the received information verification, border guards expected 11 yachts, which on April 11 arrived for registration to start to open sea.
During investigation, the owner of cutter No.УНА-6482 (flag of Ukraine) could not substantiate the purchase of great amount of drinking water  –  about 800 liters. Besides, while expecting, the border guards paid attention to the gum boat, which in its turn could be used for delivery of illegal migrants from the shore to the cutter. Further, it was established that vessel's exit aims at voyage to Turkey, in fact the crew received a task from the organizers to take the illegal migrants from the territorial sea of Turkey to the Italian shores.
In order to prevent unlawful activity connected with the transportation of illegal migrants, border guards informed the law enforcement agents of the foreign countries of the Mediterranean Sea Basin. In a result of joint work and due to duly information exchange, on April 26 of the current year, under suspicion in the transportation of illegal migrants the Finance Police of Italian Republic detained three citizens of Ukraine, who intended to deliver 26 illegal migrants too the countries of European Union in the voyage cutter. All three citizens were imprisoned.
Other owner of the cutter  No. УМБ–7348–К (flag of Ukraine) also could not explain the fact of great amount of drinking water purchase (more than 200 l). Other circumstances also pointed out for the preparation of unlawful activity. The further results of joints actions of Law Enforcement Agencies of some countries displayed into the  detention of three citizens of Ukraine – members of the crew of above mentioned yacht on April 20 by the Sub-Department of the port Mirinas (Greek Republic), who intended to take 37 illegal migrants from Afghanistan, Syria and Somalia.
It will be marked that in the course of the year 2015, border guards detected almost 300 illegal migrants intending to cross the state border of Ukraine in illegal way and get to the Countries of European Union.