12-05-2015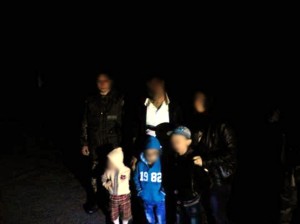 Five trespassers intended to get to Hungary in the area of Mukachevo Border Detachment.
The border guards of BS "Kosyno" noticed the unfamiliar persons moving beyond the check point with the help of the thermal imager. The reaction group started to the place immediately. The strangers seeing the border guards, improbably of success, increased their movement and in some minutes they were surrounded by the law enforcement agents.
There were two adults and three children of 2, 4 and 6 years old. The travelers having no any documents reported that they were the citizens of Iraq.
Besides, the border guards of BS "Svalovka" of Chop Detachment detected three men in the Hungarian border line. On border guards' request they could not present any document identifying their personalities and introduced themselves as the citizens of Georgia. The detainees told that aiming at better life conditions they planned to migrate to EU.