26-06-2015
T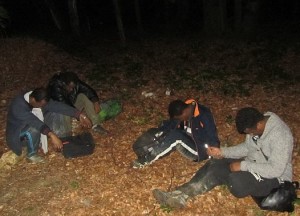 he special group composed of the staff fighting against the human trafficking of AMOI of Ukraine in Transcarpathian region arrived to the post "Nyzhnie Vorota" being a main transport artery at the entrance to Transcarpathia at night.
The policemen and border guards of Mukachevo Detachment were thoroughly checking the transport arrived to the region. It was the minibus. The police officer immediately paid attention to the antenna for the powerful radio station installed on the vehicle, and the driver with a woman were nervous during the verification of the documents.
A decision was made to check the minibus inside, where there found five young people of the eastern appearance. The foreigner could not show any documents to law enforcement agents. Finally, all mentioned persons were invited to the Territorial Police Department, where the origin of the foreigners was established. These were the citizens of Afghanistan in the age of 17 and 19 years old.
During the interview with the carrier in the Department, it was found that the citizen from Vinnitsya was not alone.
Somewhere close to the road another car was hidden with the "living goods".
Thus, the law enforcement agents had already been expected for the "guest" from Vinnitsya with "exotic foreigners". Some hours later, the mentioned car was noticed at the post "Nyzhnie Vorota". Its driver intended to avoid the post – returning the car to the centre of Volovets, but it was stopped. There were three Somalians of the age 20-30.
Source: http://www.ua-reporter.com/novosti/173095