02-07- 2015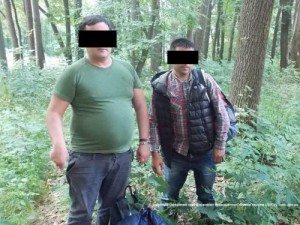 Since June 15, 2015 the staff of State Border Guard Service has apprehended 13 illegal migrants only in Transcarapathia in the frames of the operation «Border-2015».
The border guards of Mukachevo Detachment detained 11 citizens of Afghanistan. Six of them were apprehended by the border guards of «Luzhanka» some hundred meters before the state border on Hungary. Five more violators were stopped at the approaches to Ukrainian-Hungarian border by the Border detail of BS «Vilok». The man and a woman with three children were detected by means of the thermal imager. Besides, the border guards of BS «Uzhgorod» of Chop Detachment stopped two migrants from Caucasus. Two citizens of Georgia avoided the check point and were travelling to the neigbouring country assisted by the service Google maps.
The violators were delivered to border sub-departments in order to establish their personalities and draw up administrative-procedural documents. Their further destiny will be decided by the court.
In total, since the beginning of the operation the staff of State Border Guard Service together with the interacting bodies exposed almost 150 illegal migrants, 10 of them are children.
Source: http://dpsu.gov.ua/ua/about/news/news_7716.htm