21-07-2015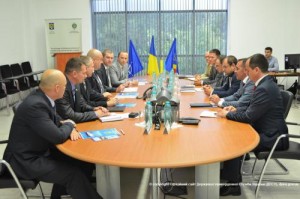 Ukraine and Romania intend to join efforts in order to train the border guards of the sea borders of the countries.
In particular, it is expected that the project of the International Organization for Migration funded by the US State Department, will perform a training course for the captains of the sea security at the State Border Guard Service on the base of Training Centre of the Romanian Border Police Coast Guard in Constanta. Besides, a joint training is planned regarding the staff observation groups of the border agencies of Ukraine and Romania as well as experience exchange on staff training methods between Izmail Education-Training Detachment and Coast Guard Training Centre of the Border Police of Romania.
A joint plan for these measures implementation was agreed during the work of the State Border Guard Service of Ukraine delegation at the Coast Guard Training Center of the Border Police of Romania.
The signing of this document is scheduled in September this year, after which the parties will pass to the practical implementation of the common training measures and experience exchange.