12-08-2015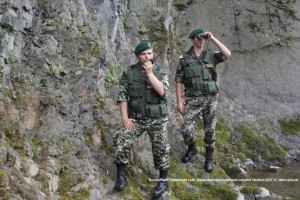 The staff of Sate Border Guard Service and other law enforcement agents of the neighboring countries continue counteract to illegal migration at the state border. Thus, at night Hungarian border guards reported about their observance of the area by means of thermal imager fixing the movement of two unfamiliar persons nearby the border.
The reaction group of BS "Luzhanka" of Mukachevo Detachment started immediately to the possible direction of the unfamiliar persons' movement and already in 20 minutes detained two men without documents introduced themselves as Somalis.
So far, verification measures are performed regarding the detainees as well as the search of the persons who probably assisted the citizens of Somalia in this night trip.