16-08-2015
B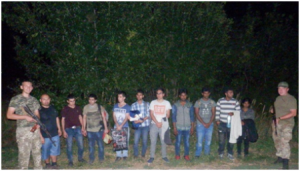 ig group of illegal migrants was apprehended by the staff of State Border Guard Service of Ukraine and Hungarian border guards in a result of operative information exchange in the frames of joint operation realization "Border-2015".
Ten persons without documents were detained in the evening by the border guards of BS "Kosyno" of Mukachevo Detachment 100 m before the Hungarian border. There were 5 citizens from Afghanistan, 4 – Sri Lanka and 1 – Bangladesh.
Information about group of people movement similar to illegal migrants was provided by the inhabitant of the village Popovo, Berehovo region.
In total, 652 illegal migrants have been detected since the beginning of the operation "Border-2015", 46 of them were children.