27-08-2015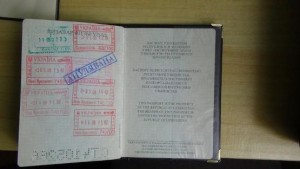 The actions to check the separate objects of massive public gathering are continued in the frames of joint operation "Border-2015" in Kyiv and in all directions of the state border.
In the result of conducted operative-searching work the border guards of 10th Mobile Border Detachment and check point "Kyiv" together with the officers of Secret Service of SSU in Kyiv and Kyiv region, Criminal Fight Department connected with human trafficking of MOI of Ukraine and the staff of State Migration Service of Ukraine detained 35 foreign citizens with the signs of migration law of Ukraine violation.
They were invited to Desnyanskyi SMS of Ukraine in Kyiv. There were 7 foreigners – 2 citizens of Morocco, 2 citizens from Pakistan, one from Angola, Jordan and Mauritania among the disclosed violators were without documents. They were brought to administrative responsibility according to the Article 203 of Code on Administrative Violations of Ukraine as well as an issues is under consideration as to their compulsory deportation beyond the borders of Ukraine.
Also, 10 foreigners – 2 citizens of Azerbaijan, 2 – Turkey and by one from Algeria, Bangladesh, Pakistan, Syria, Tajikistan and Uzbekistan – had been subjected to administrative liability for violation of the stay rules on the territory of Ukraine under the Article 203 of CAVU.
Besides, during the last day border guards of BS "Knyaginya", Chop Detachment apprehended 2 citizens of Iraq in Transcarpathia.
The reaction group of BS "Kosyno" of Mukacevo Detachment getting information from Hungarian colleagues detained a citizen of Syria. Two more Syrians were apprehended by the Hungarian border guards.