04-09-2015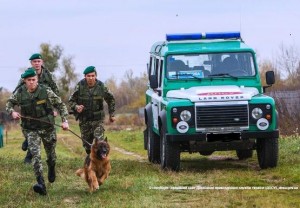 Border detail of BS "Kosyno" exposed a group of unfamiliar persons moving towards the border in the area of Mukachevo Detachment. Reaction group started to the place immediately and detained 11 persons. Detainees introduced themselves as the citizens of Afghanistan. Two citizens of Ukraine were close to illegal migrants, who seeing the border guards started to run and when detaining – resisted. Border guards made one warning shoot up to stop the infringement at once. The conflict was not settled. During detention one of the Ukrainians called unknown person and gave the phone to the senior officer from the reaction group. The unknown person threatened the border guard if he would not let the detainees.
However, despite of the threats, the border guards of Mukachevo Detachment delivered all detainees to Border Subdivision. Besides, one of the detained citizens of Ukraine, probably involved in illegal migrants' transportation abroad, detected the start pistol with 2 patrons to it of 9 mm caliber.
An investigation is carried out as to this case.