30-09-2015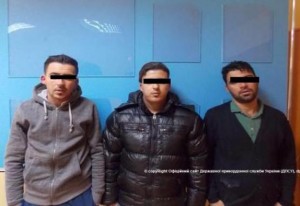 Arriving to Transcarpathia by the regular bus "Chernovtsy-Uzhgorod" refugees from Syria interested about the better ways to cross the border on European Union from local inhabitants.
In the area of BS "Uzhgorod" of Chop Detachment the district inspector detected and detained three suspicious persons assisted by the service dog, who arrived by the above mentioned regular bus asking the local residents how to cross the state border beyond the check point.
According to their words two of them were the citizens of Algeria, and the third person, citizen of Syria, possessed Ukrainian Permanent Resident Card. The Syrian tried to cross the state border in illegal way already two weeks ago in the area of BS "Kosyno", Mukachevo Detachment. Thus, an issue on further staying in Ukraine will be defined by the court.