05-10-2015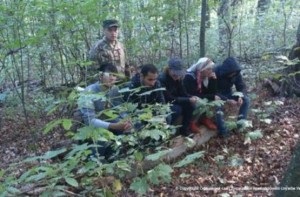 Transcarpathian border guards stopped the illegal migrants from Somalia and Ethiopia. There were also natives of Iran and Afghanistan…
The other day, Ukrainian border guards apprehended a big group of illegal migrants making their way to Slovakia and Poland.
"Border guards of Chop Detachment detained four persons without documents 200 before the Ukrainian-Slovakian border. Three of them got to Ukraine from Somalia, one – from Ethiopia – State Border Guard Service informs.
Besides, the military men apprehended three more migrants from Iran and 10 Afghanis.
During the check of one of the trains in the check point Chop, inspectors detected a guest from Cote d'Ivoire having no necessary documents. According to preliminary data, the resident of exotic African country arrived to Ukraine for studies. One more citizen of Afghanistan was apprehended by the border detail "Belz" in Lvov region intending to run to Polish side.
Verification is conducted regarding all detainees, the persons are searched, who assisted illegal migrants to reach the border.