05-10-2015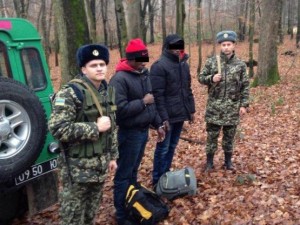 Aiming to common counteraction to illegal migration and fight against the trans-border criminality at the exterior land borders of European Union, nowadays the International Joint Operation "Key points" is conducted.
The actions are performed under the common coordination of European Agency Frontex along the western border of EU with Ukraine.
On October 4, 2015, in the frames of these actions, as to the statement of the Slovakian border guards who noticed the movement of the group of persons towards the border guards of Chop Detachment detained a big number of illegal migrants.
The reaction group of BS "V.Bereznyi" at first stopped 4 men without documents 200 m before the border line, according to their words they arrived from Somalia.
Already in 15 minutes, in the course of further searches, border guards detected 5 more persons (according to their words – citizens of Afghanistan) also without documents.
It should be added, that one more violator from Cote d'Ivoire without documents was detected by the border guards of the same detachment during the check of one of the trains in the check point "Chop" arrived from Kyiv.