19-10-2015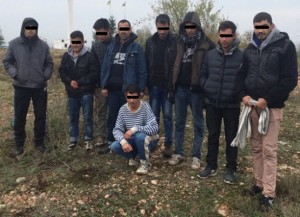 The police investigator detected and detained a group of illegal migrants in the number of eight persons of the age 16-37 on the mountain Kuklya in the suburb of Beregovo. They had no documents proving their identity and legality of their presence on the territory of Ukraine. According to the preliminary information, this group traveled towards the state border on Hungary and intended to cross it in illegal way. Also, there was 23-year-old previously convicted inhabitant of Beregovo together with illegal migrants. The law enforcement agents verify its participation in assistance in illegal transportation of persons through the state border of Ukraine.
If commitment of this infringement is confirmed, a criminal case will be proceeded as to Article 332 of Crime Code of Ukraine.
Policemen handed the illegal migrants to officers of Mukachevo Border Detachment.