29-10-2015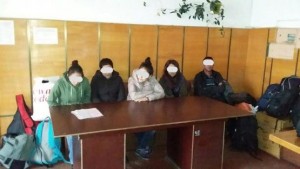 In the frames of counteraction to illegal migration, law enforcement agents apprehended 16 migrants from Asia and 4 citizens of Turkey.
Operative subdivisions of State Border Guards Service in cooperation with other law enforcement agents continue measures directed upon counteraction and exposure of the channels of persons' illegal transportation through the state border in the frames of operation "Border-2015". Thus, in Kyiv the officers of Mobile Detachment of SBGS and SSU prevented the smuggling of 16 illegal migrants originating from southern-eastern Asia. On preliminary information, three of them were the citizens of Bangladesh, 5 – India, 8 more – from Pakistan. The foreigners were detained in one of the hostels in Darnytsya district. The law enforcement agents established that it was planned to transport them illegally to EU countries via western area of the border. At present, measures are continued on identification of the organizer of migrants' illegal transportation.
Other travelers were stopped in Transcarpathia by the staff of Chop Border Detachment. Local residents warned border guards about appearance of unknown persons. Soon, border guards apprehended 2 citizens of Turkey with two children in the area of BS "Uzhgorod" nearby the border. The migrants planned to get to European countries in illegal way.