08-11- 2015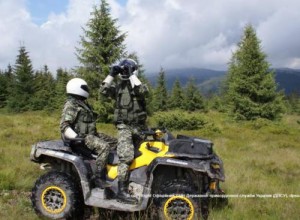 Operation "Border-2015" is continued on detection of illegal migrants and unlawful actions at the state border.
While measures conducted on verification of the ways and places of illegal migrants' accumulation, the border guards of BS "Selyatyn" of Chernivtsi Detachment detected 10 illegal migrants.
First border guards apprehended 2 migrants. Soon, the searching group detected 5 more women, 1 man and 2 children without documents in one of the buildings in the suburb of village Selyatyn, who arrived from Afghanistan.
Lately, in connection with expected worsening of the weather conditions, the number of illegal migrants being detected at the borders on EU. Thus, just for a day border guards apprehended 16 illegal migrants at different areas of the border – originating from Afghanistan, Bangladesh and Pakistan. The organizers of such channels, not thinking of risk for people, direct women as well as children to difficult accessible border places. In its turn, State Border Guard Service appeals to the residents of border areas in case of appearance of strangers or revealing other signs of movement of the organized groups inform immediately the nearest subdivision of SBGS or by phone.