17-12-2015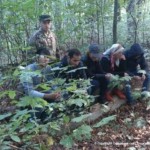 As it was reported before, Transcarpathian border guards detained 13 illegal Afghans. Where were three families with children travelled to? And who profits from such smuggling illegal immigrants?
Atolla with Semira and their five children were detained by Transcarpathian border guards for the third time. The youngest son of the refugees – is eleven months. The oldest – is 13 years old. The family fled from Afghanistan because of the war.
"I am – an engineer and work was good, but my children could not go to school. We were forced to flee," – Attola  explains.
He could not find any job in Ukraine. His family had been living at the railway station for two weeks. They had no money for housing. They hope to find "better life" in Europe. Thus, they repeat their attempts to get there. The same as the family of Massi. The first attempt failed when they intended to cross the border 5 years ago. Since that time they lived in Odessa.
"The business was poor, the house rent was high, we were unable to live there and made decision to go there and do something"- Massi tells.
The Afghanis decided to get to Europe by a group. They were apprehended 800 m before the border o Hungary. This group, also some other local residents were involved, was taken to the state border, where they just stayed for some period. They stayed outside Transcarpathian region in some building." – the chief head of Mukachevo Border Detachment Sergey Melnyk reported.
All detainees are at Detention Centre in Mukachevo Detachment. They will be handed to Migration service after their identification.
Smuggling is a rather profitable business in Transcarpathia. The organizers may ask $12000 for one person. Usually money is supplied by relatives residing in Europe …