04-01-2016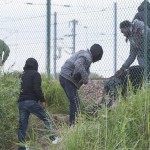 Several persons attempting to cross the state border beyond the check point were detected by the border guards of Mukachevo Detachment in the evening.
The violators moving along the soil-reclamation canal were noticed by the border guards of BS "Kosyno" by means of thermal surveillance device.
In the course of the searching actions the reaction group first detained one of them.  The service dog helped tracing another unfamiliar person. Also, the border guards informed the neighboring side about the traces of one more man moving in the direction towards Hungary.  Soon, Hungarian border guards detained the violator at their territory. All detainees were the citizens of Guinea.
So far, these persons are delivered to Border Subdivision in order to perform filtration actions and prepare administrative and procedural documents.