04-02-2016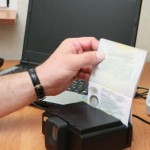 State Border Guard Service performs measures on counteraction to illegal crossing of the border as well as constantly improves Border Security System on the entrance and exit ways. A sufficient number of those trying to get to Ukraine in illegal way has been detected by the border guards when monitoring the second line and additionally checking persons under suspicion.
In accordance with the results of conducted analysis in 2015, the second line control procedure was applied to 125 thousand foreigners and stateless persons. As a result, more than 30 thousand foreigners were not allowed to enter Ukraine. Disconfirmation of the aims as to the planned stay in Ukraine by the foreigners, reveal of forged or invalid documents and the like were among the main reasons of rejection on entrance.
For example, border guards revealed two citizens of Libya in the Boryspil airport. They arrived to Ukraine as if for studies at one of Kyiv educational establishments. However, it was established that these citizens did not have any necessary documents and mentioned establishment knew nothing about these entrants in the course of the additional check. The violators were returned by the back flight.
The majority of non-admitted foreigners are potential illegal migrants using Ukraine mainly as transit country. Their principal intention is to get to Ukraine, where they are concentrated for a certain time and then border guards detained migrants directly at the state border when they try to get to the countries of Western Europe beyond the check point.
In total, almost 1650 illegal migrants in the areas of the western border for the state border crossing in the year 2015, overwhelming majority of whom were the native of Afghanistan, Syria, Iraq, Pakistan and Sri Lanka.