12-02-2016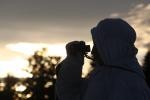 In a result of conducted joint international operation by Ukrainian and Hungarian border guards, the next group of illegal migrants was disclosed. This is far from being the first detention under cooperation of the border guards from both sides, as the constant information exchange allows to react promptly upon the situation and take preventive measures in due time.
Border guards of Mukachevo Detachment discovered a group of illegal migrants in the area of BS "Kosyno", who intended to get to Hungary in illegal way. In total, border detail stopped four citizens of Turkey nearby the border line; there was a child among them.  According to their words, they moved to EU countries in the search of better life conditions. It was promptly established that these persons "traveled" not by themselves. Ukrainian border guards informed their Hungarian colleagues immediately. Soon, border guards of the neighboring country apprehended 5 more citizens of Turkey. So far, the verification measures continue.
Getting to the countries of European Union through Transcarpathian region, illegal migrants often take minor children with them, thus, exposing them to fatal danger as trips along the mountainous areas in cold weather may result in tragic consequences. And there are precedents.
It will be recalled that border guards of Mukachevo detachment detained the group of 11 illegal migrants from Afghanistan in the mid-January. There were 7 children of different age. Yet, 14 Afghanis, 3 minors of them, were stopped in this direction in the end of January. Three Afghanis travelled together with two children some days ago and were disclosed by the border guards of BS "Bolshaya Palad".
In general, since the beginning of the year the staff of State Border Guard Service detected 180 migrants at all areas of the border, who attempted to cross Ukrainian border illegally. The sixth part of them are children of different age.