23-02-2016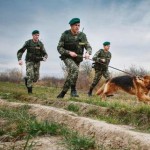 Ukraine is often used as a transit zone for migrants from CIS countries and Asia. It was reported by the executive officer of Mukachevo Border Detachment Sergey Tymoschuk at the press conference in Uzhgorod.
Migrants' flow has increased from Syria. Thus, 80% of illegal migration is not a random action, there is a well-established business. This service costs $4 000 and more. People sell houses and flats, especially when departing by the whole family.
Migration peak was in 2000 and it decreased in 2010: from January 1, 2010 all migrants coming to EU were returned back to Ukraine. And in 2015 this number of cases on illegal migrants' detention increased in two times, number of apprehensions – in three times. Part of migrants resides for some period in Ukrainian cities and then they start to EU. They use data of their acquaintances already living in EU and Google maps for orientation.
Growth of proportion as to women and children becomes a peculiar feature of the last years. Thus, there were 76 children detained from infants to 16 years old ones during the last year. The majority of them had diagnosed bronchitis and virus diseases, there were often cases of injures in the mountains.
Also cases of repeating detention became more frequent: of 508 persons apprehended last year 36 were detained repeatedly – for the second and third times. The border guards of Mukachevo Detachment already this year stopped 22 recurrent attempt of illegal crossing of the border.