26-02-2016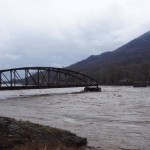 Early in the morning border guards of Mukachevo Detachment apprehended 5 unfamiliar persons – two men, two women and a child in the suburb of the village of Vilok, on the bank of the Tysa River. They had no any documents. The "travelers" were delivered to Border Sub-Department, where in the course of filtration actions they reported to be the citizens of Afghanistan.
Also, Afghanis told that assisted by the foreigner they attempted to cross over the river on the rubber boat and get to Europe, but the boat was in poor state. They did not continue their way. After this, the foreigner disappeared and left the boat and migrants.
This fact proves once more that people engaged in illegal transportation of persons through the state border for the sake of unlawful profit leave their "charges" to the merсу of fate.
Checking the neighboring area for the signs of its violation, Ukrainian border guards informed their colleagues from Hungary about detention of illegal migrants.