16-03-2016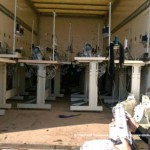 The staff of State Border Guard Service together with the officials of Public Prosecutor's Office disclosed an underground workshop in Odessa region, where potential migrants sewed clothes.
This deal exposure became possible due to long-term actions performed by operative officers of Odessa Border detachment. In particular, processing received data it was established that possible location of one of the illegal migrants' group stayed in one of the private houses in the village of Prilimanskoe, Ovidiopolskyi district. Subsequently it was learned that also clothes were made in this area. The migrants had to work off in this workshop before the organizers of illegal migration would take them to the EU countries. Some groups of former "cutters" were detected by the border guards in the course of the last months at the western border.
14 citizens of Vietnam were detected during the premise search, who had no any documents. Sewing equipment for jackets of "Columbia" brand was also found.
So far, detained migrants were handed over to the representatives of State Migration service to clarify the legality basis of their stay within the territory of Ukraine. Investigations go on as well as persons involved in this infringement are established.